A lot of love and care went into choosing and giving your engagement ring, so now it's time to give wedding bands your undivided attention. The choices seem endless, but we've gathered some popular looks to help narrow things down for you.
In this blog we'll cover stackable wedding bands, rose gold bands and vintage style wedding bands, as well as other styles to pair with engagement rings. We'll also look at some wedding band options that are so beautiful and diamond-studded they could stand on their own. What we're not covering here are wedding bands for men – a topic that merits a full blog article all on its own. We'll write about that soon. In the meantime, let's explore trending wedding bands for engagement rings.
Stackable wedding bands
Stackable wedding bands are in – and for good reason. It's a look that's easy to personalize. It's a style that can be changed to suit your moods, your outfit, the season and more. It's also a way to add lots of melee diamonds – and that's a good thing: The more diamonds on the band, the more diamond sparkle it will have. With so many pluses, it's no surprise that stackable wedding bands are popular.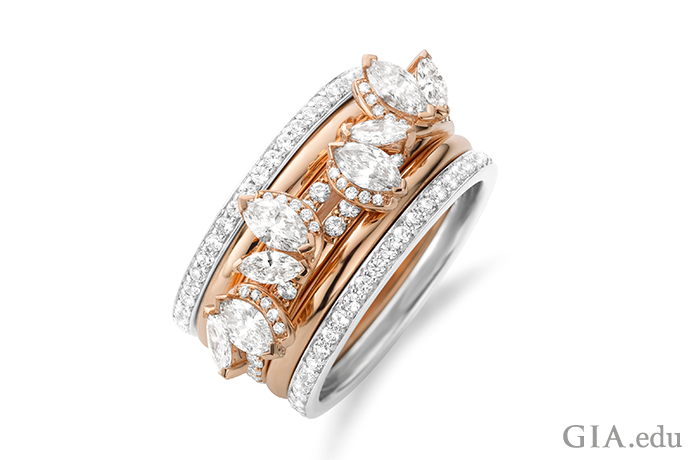 Here's proof that five wedding bands are maybe better than one. Marquise diamonds in the center band add a dash of edgy elegance, while the white gold and rose gold outer bands create a dramatic contrast. Courtesy: Laurence Bruyninckx – Antwerp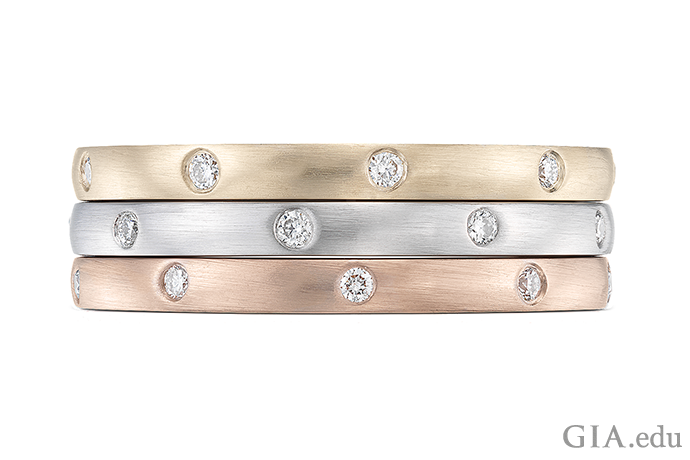 Can't pick your favorite color? Stackable wedding bands of 14K yellow gold, rose gold and white gold might be the answer. Courtesy: BlueNile.com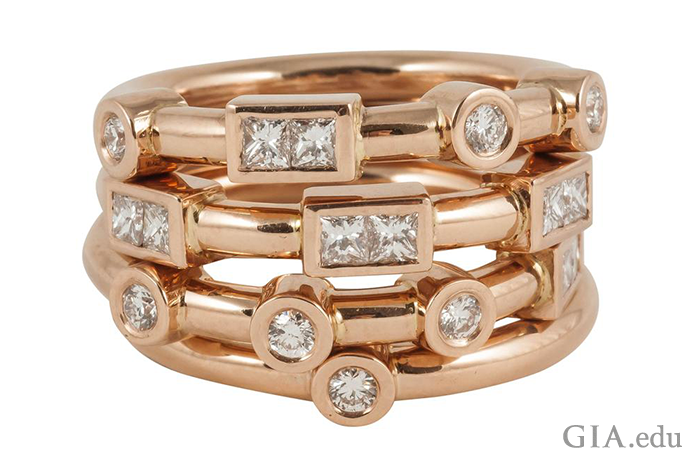 Four wedding bands in rose gold make a serious statement. The piece also has a hidden message: The dots and dashes are Morse code for "love." Courtesy: 1stdibs.com
Rose gold wedding bands
Rose gold is a trending wedding band choice. Its warm tones are soothing and serene. Rose gold wedding bands can also make a bold statement when paired with the perennially popular white metals. Another benefit: Rose gold wedding rings complement most skin tones.
Rose gold also has historic heft: It was popular in Victorian engagement rings and retro engagement rings. If you're curious, rose gold is made by adding copper to the gold alloy.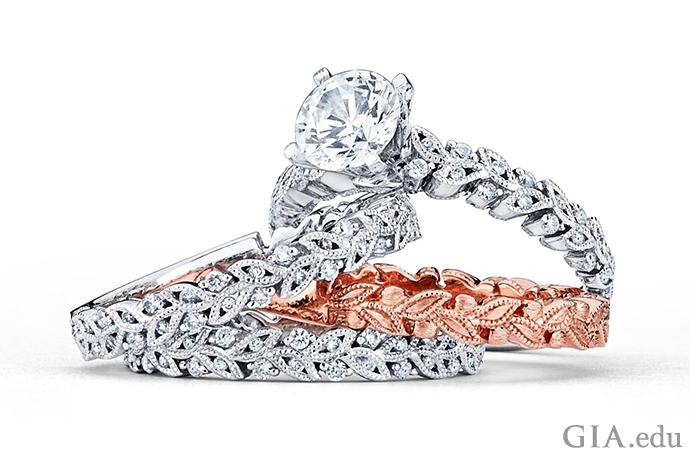 A rose gold band adds a dramatic splash of color when bracketed between two bands in white gold. A subtle touch: The pattern in the rose gold ring is echoed in the diamond wedding bands. Courtesy: Sandra Biachi Fine Jewelry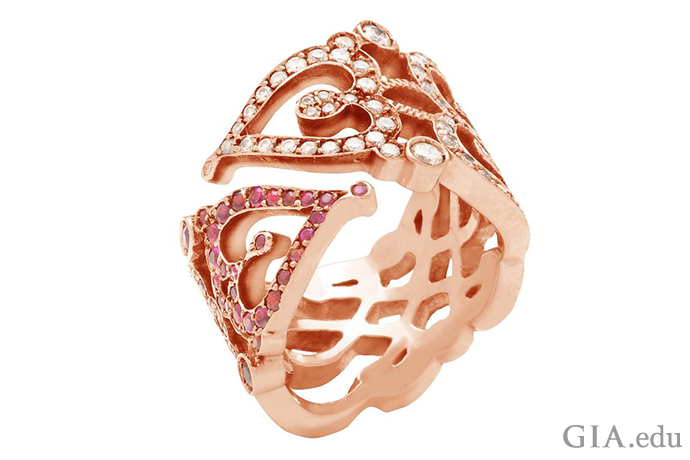 Patterns in a box from the Middle Ages inspired Sabine Getty to create this wedding band. Rose gold adds an antique look. The creation is studded with 0.65 carats of diamonds and 1.26 carats of rubies. Courtesy: 1stdibs.com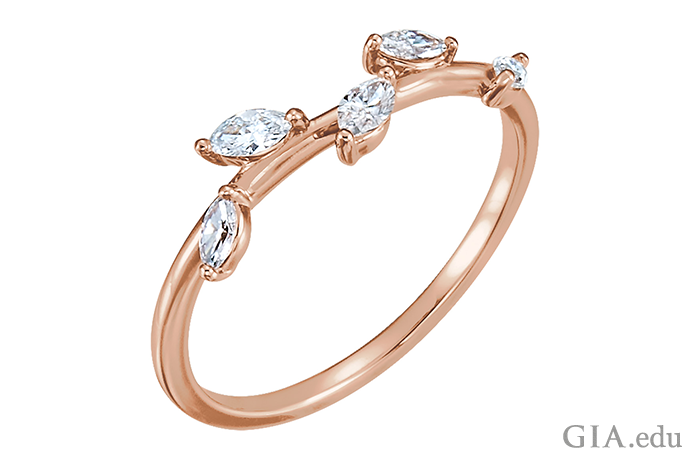 This wedding band is a "natural" delight: The 14K rose gold band plays the part of a branch, and diamonds are the leaves. Courtesy: Stuller Inc.
Vintage style wedding bands
Contemporary jewelry designers are reimagining vintage engagement rings for today's sensibilities. Their designs capture the style and glamour of past eras – but have all the excitement that we've come to expect from modern creations. Does your engagement ring have a vintage style, like Art Deco, Art Nouveau or Edwardian? Why not carry the style through with your wedding band to create a themed and unified look? Brides-to-be with a taste for things of the past are making this one of the more popular trends for wedding bands.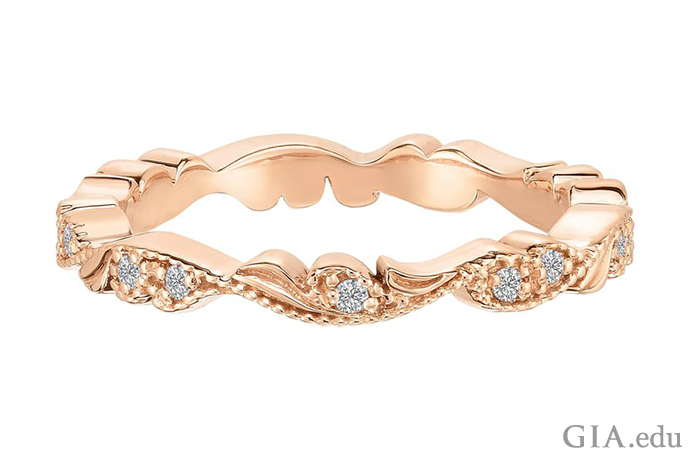 Scroll work, lacey lines and flourishes in Marisa Perry's Chantilly Lace wedding band evoke Edwardian style rings. Courtesy: 1stdibs.com
Milgrain (a close-set row of metal beads) has been a popular way to adorn engagement rings for over a century. The technique instantly creates a vintage look for today's wedding bands. Courtesy: Sylvie Collection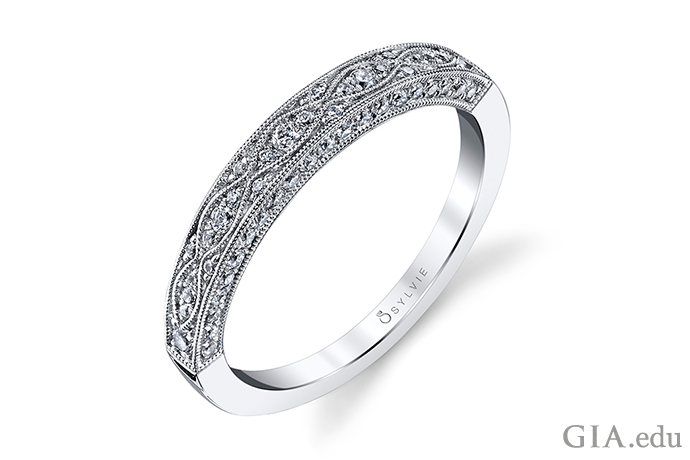 With its ornate design and generous use of milgrain, this contemporary wedding band could have been discovered in an antique shop. Sweetening the design are 0.37 carats of diamonds. Courtesy: Sylvie Collection
Pavé and bead-set diamond wedding bands
Pavé is a setting style where numerous melee diamonds are set into the metal's surface in a honeycomb pattern, nestled close to the stones next to them. It creates an appearance of uninterrupted diamonds. A field of diamonds is irresistible for its sparkle, and that has made the pavé look one of this year's hottest trends in wedding bands.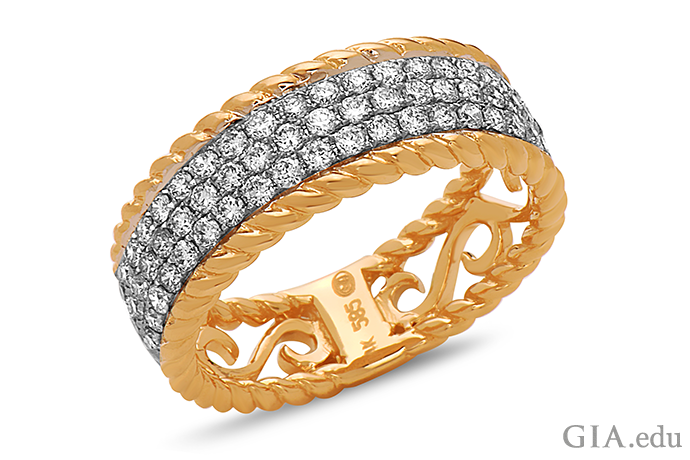 Rows of pavé-set diamonds sparkling in this wedding band are guaranteed to catch the eye. Courtesy: Dilamani
Bead-set diamonds are also a trending wedding band design. In this setting style, small beads of metal hold the diamonds in place, creating a simple and elegant look.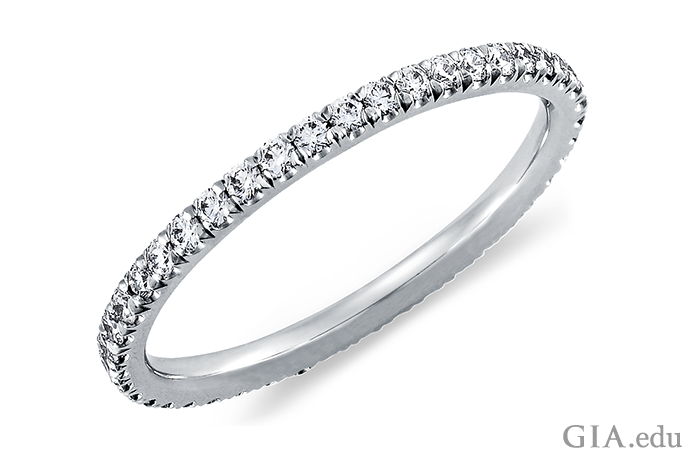 A row of bead-set diamonds shine like city lights twinkling in the evening. Courtesy: BlueNile.com
Twisted wedding bands
Twisted bands are definitely contemporary, yet the motif is extremely old. Papyrus scrolls from ancient Egypt showed images of rings braided from hemp or reeds. Perhaps the motif symbolized two lives intertwined. Theories aside, today twisted wedding bands deliver a modern look and add welcome visual richness to engagement rings.
Two intertwined rows of diamonds (0.25 carats total weight) brighten this twisted wedding band. Courtesy: Sylvie Collection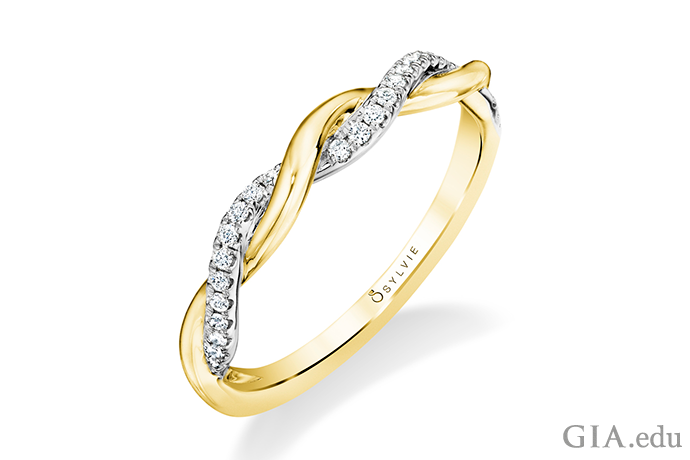 In this twisted wedding band, a row of diamonds (0.12 carats total weight) weaves its way around an unadorned yellow gold band. Courtesy: Sylvie Collection
Now that you know these five wedding band trends, you're probably thinking about the big day – and looking for something old, something new in jewelry ideas.
Source: gia.edu