A radiant cut engagement ring is an irresistible combination: It has the fire of a round brilliant diamond and the aristocratic elegance of an emerald cut. Created in 1977, the radiant cut has been charming brides-to-be for decades.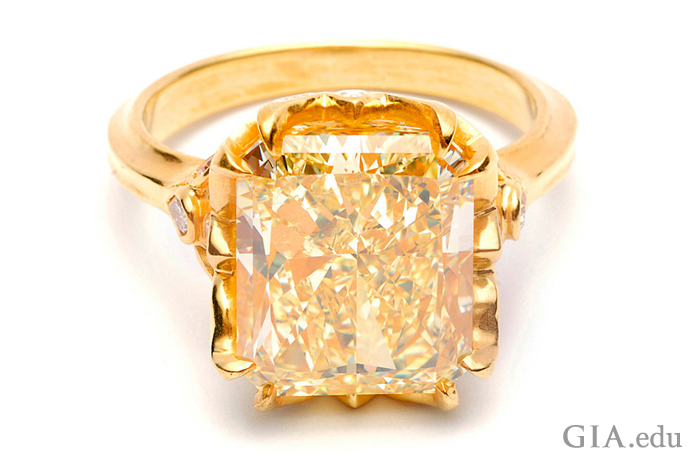 This dramatic 8 carat (ct) radiant cut yellow diamond is an alluring choice for a diamond engagement ring. Courtesy: McTeigue and McClelland
A relative newcomer to the ranks of fancy-shaped diamonds, the radiant cut can be square or rectangular; notably, it has cropped corners and brilliant-cut facets. Diamonds with less-than-exceptional clarity can be good candidates for radiant cut engagement rings: In addition to giving the stone plenty of sparkle, this brilliant-cut faceting pattern disguises inclusions that would be more readily apparent in an emerald cut.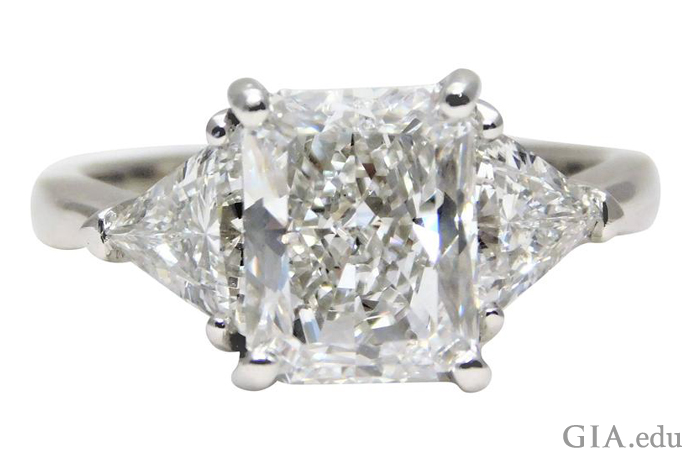 A 3 ct radiant cut diamond is flanked by two trilliants weighing 0.70 ct. Courtesy: 1stdibs.com
Buying a Radiant Cut Engagement Ring
Radiant cut diamonds have broad appeal. Elongated stones can create the effect of slenderizing fingers, while shorter styles can flatter even the most petite hands. To determine which proportions work best for you, we recommend trying on various options to find the perfect radiant cut engagement ring.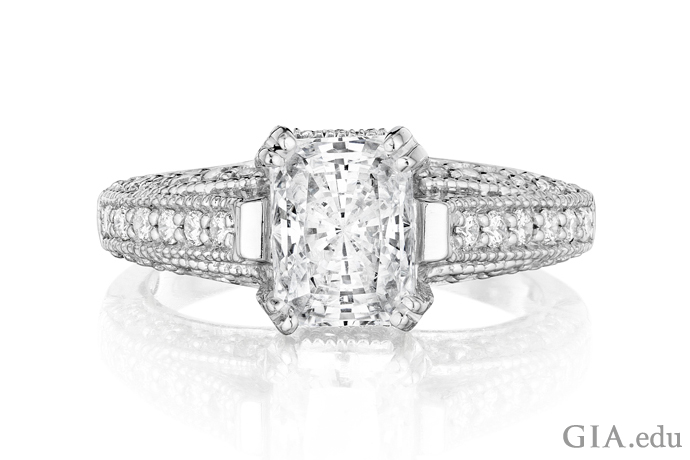 A beautiful 20.04 ct radiant cut diamond set in platinum showcases the excitement of this faceting style. Courtesy: Norman Silverman
Important characteristics to look for in any radiant cut diamond are a well-centered culet, parallel sides and corners cropped to identical size.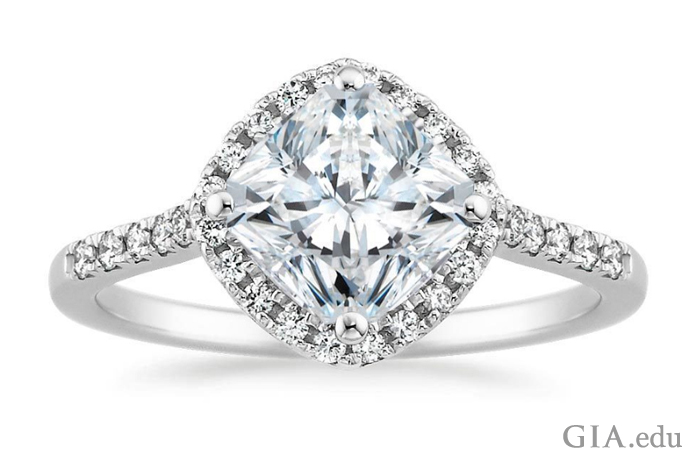 Looking for a simple yet elegant square shape for your engagement ring? This radiant cut center stone with round brilliant cut diamonds is an attractive option. Courtesy: Brilliant Earth
The enchanting sparkle and alluring appearance of radiant cut diamonds makes them especially attractive as solitaires. And they don't require extra embellishment to stand out from the crowd: Taste-making celebrities like Megan Fox sport the cut.
The three yellow radiant cut diamonds in this ring set with round yellow melee diamonds make a breathtaking statement. Courtesy: Rahaminov Diamonds
The radiant cut diamond also pairs well with side stones. Shapes with straight edges—like trilliants, or baguettes and other rectangular stones—are popular in radiant cut engagement rings because their linear silhouettes are complementary. And while you'll often see radiant cut diamonds oriented north-to-south in engagement rings, the east-to-west orientation is gaining in popularity.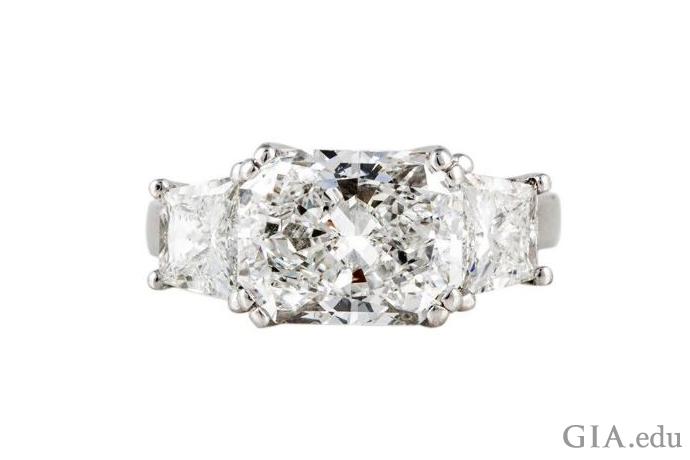 You're sure to stand out and be noticed with an engagement ring that has a radiant cut diamond pointing east to west. This magnificent ring has a 4.15 ct stone with trapezoid-cut side stones weighing another 1.25 ct. Courtesy: 1stdibs.com
If you are looking for the elegance of a rectangular or square shape with the fire of a round brilliant diamond, a radiant cut engagement ring may be perfect for you. Ready to start shopping? Read on to learn more about how to pick a radiant cut diamond.
Source: gia.edu